Odissi music is a system of Indian classical music with a history spanning more than a thousand years. It has its own repertoire of indigenous ragas, a vast body of literature in the Odia language and a distinct style of rendition. This project is an attempt to make more people aware of this rich tradition by providing carefully curated content, and bring some much-needed attention to the hundreds of dedicated musicians in the villages of Odisha who have kept alive this ancient art.
From my own research of the subject as a vocalist, this is my attempt to provide a single portal that collates never-before available lyrics, rare literary genres, lost tunes, gramophone recordings, interviews and other archival data to provide a holistic view of this distinct school of music.
---
This is a part of project Pothi
Pothi is a project to create comprehensive digital documentation of critically endangered cultural elements
---
1
Balaram Gouda
Naikanipalli, Khallikote, Ganjam
Sri Balaram Gouda is trained in the ancient tradition of Sakhi Nata in Ganjam. His repertoire spans odissi, chhanda, champu and a lot more, from the works of several authors.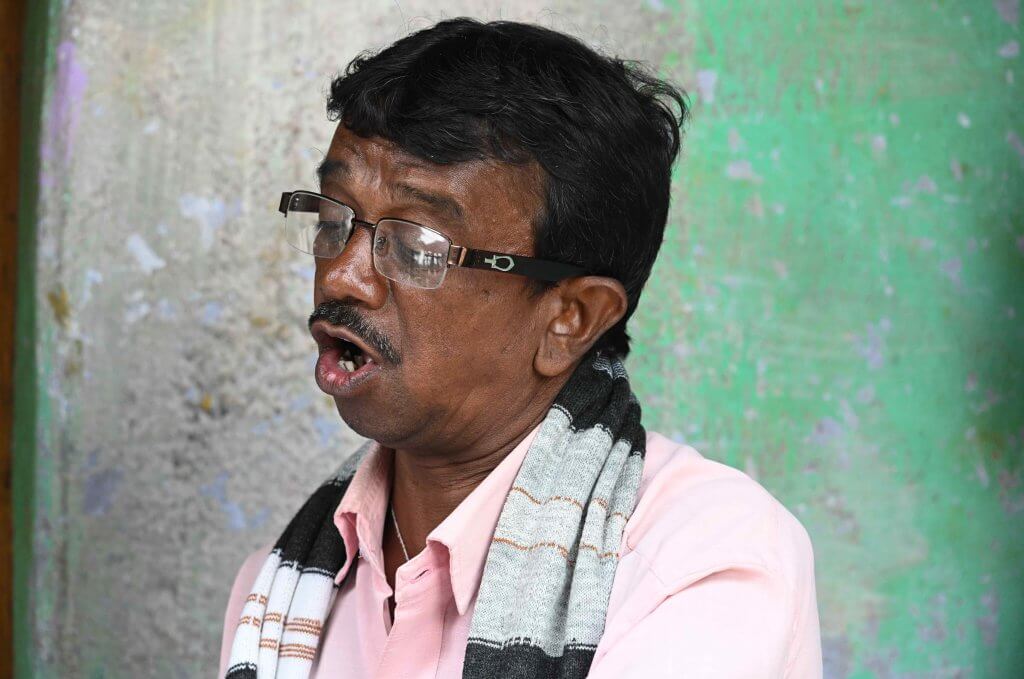 I once saw a performance by his troupe and that was when I heard his voice for the first time. It did not take long to realise that the tunes and variations he employed were steeped in tradition. Since then I had been waiting to meet the gentleman; fortunately, things went well and we were able to sit with him for a wonderful session at Naikanipalli, Ganjam, Odisha.
Songs recorded

Malli Mala Syamaku Debi – Upendra Bhanja, Ghumusara (1670-1740)
Chhaila Bara Chhamure Padili – Gopalakrusna Pattanayaka, Paralakhemundi (1784-1862)
Lead vocalist / Balaram Gouda
Mardala, Khola / Bhimasen Mahankud & Praphulla Swain
Gini & others / Gaurahari Khuntia, Jagannath Dora
---
2
Chandramani Lenka
Puri
Sri Chandramani Lenka is a veteran Odissi musician. His voice has a distinct touch of Puri and his training was mostly under Singhari Shyamasundar Kar and Balakrushna Dash.
The recordings aren't of very high quality; this is because it was one of my first attempts at documentation, without any specialised equipment.
Songs recorded
Ninda Na Labha Sakhi Re – Kabisurjya Baladeba Ratha, Athagada (1789-1845) – Raga Kalyana
Sajare Sahi Sajare – Rajarajeswara Deba – Raga Sankarabharana
Jamunaku Aau Jaana – traditional – Raga Sankarabharana
Manini Radhe – Benudhara – Raga Kalyana
Chahan Nayana Chape Madanamohana – Singhari Shyamsundar Kar – Raga Kalyana, Tala Rupaka – Chandana Jatra song
Jhulibe Ta Aja Kunje Barajaraja – traditional – Raga Kamodi, Tala Adatali – Jhulana Jatra song
Ki Bhangi Kala Lo Mita – Sadananda Kabisurjya Brahma – Raga Brundabati
---