Odissi music is a system of Indian classical music with a history spanning more than a thousand years. It has its own repertoire of indigenous ragas, a vast body of literature in the Odia language and a distinct style of rendition. This project is an attempt to make more people aware of this rich tradition by providing carefully curated content, and bring some much-needed attention to the hundreds of dedicated musicians in the villages of Odisha who have kept alive this ancient art.
From my own research of the subject as a vocalist, this is my attempt to provide a single portal that collates never-before available lyrics, rare literary genres, lost tunes, gramophone recordings, interviews and other archival data to provide a holistic view of this distinct school of music.
---
This is a part of project Pothi
Pothi is a project to create comprehensive digital documentation of critically endangered cultural elements
---
1
Balaram Gouda
Naikanipalli, Khallikote, Ganjam
Sri Balaram Gouda is trained in the ancient tradition of Sakhi Nata in Ganjam. His repertoire spans odissi, chhanda, champu and a lot more, from the works of several authors.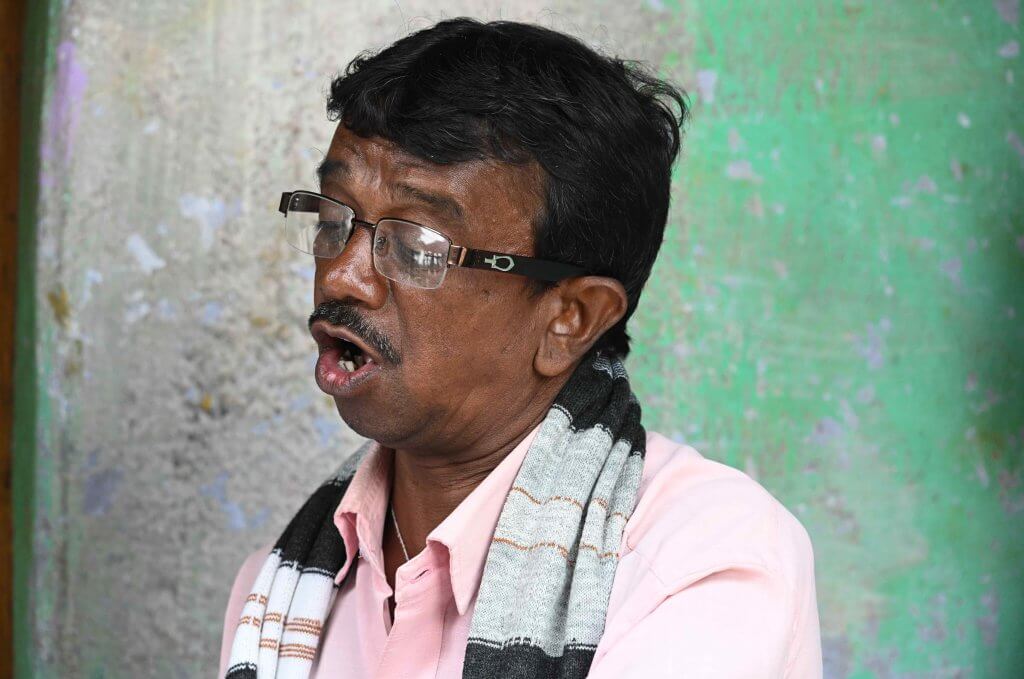 I once saw a performance by his troupe and that was when I heard his voice for the first time. It did not take long to realise that the tunes and variations he employed were steeped in tradition. Since then I had been waiting to meet the gentleman; fortunately, things went well and we were able to sit with him for a wonderful session at Naikanipalli, Ganjam, Odisha.
Songs recorded

Malli Mala Syamaku Debi – Upendra Bhanja, Ghumusara (1670-1740)
Chhaila Bara Chhamure Padili – Gopalakrusna Pattanayaka, Paralakhemundi (1784-1862)
Nua-nata-patali-mukuta He – ṅa (ଙ) song from Kisora-Chandrānanda Champu of Kabisurjya Baladeba Ratha, Athagada-patana (1789-1845) – Raga Kumbhakamodi – Champu
Lead vocalist / Balaram Gouda
Mardala, Khola / Bhimasen Mahankud & Praphulla Swain
Gini & others / Gaurahari Khuntia, Jagannath Dora
---
2
Chandramani Lenka
Puri
Sri Chandramani Lenka is a veteran Odissi musician. His voice has a distinct touch of Puri and his training was mostly under Singhari Shyamasundar Kar and Balakrushna Dash.
The recordings aren't of very high quality; this is because it was one of my first attempts at documentation, without any specialised equipment.
Songs recorded
Ninda Na Labha Sakhi Re – Kabisurjya Baladeba Ratha, Athagada (1789-1845) – Raga Kalyana
Sajare Sahi Sajare – Rajarajeswara Deba – Raga Sankarabharana
Jamunaku Aau Jaana – traditional – Raga Sankarabharana
Manini Radhe – Benudhara – Raga Kalyana
Chahan Nayana Chape Madanamohana – Singhari Shyamsundar Kar – Raga Kalyana, Tala Rupaka – Chandana Jatra song
Jhulibe Ta Aja Kunje Barajaraja – traditional – Raga Kamodi, Tala Adatali – Jhulana Jatra song
Ki Bhangi Kala Lo Mita – Sadananda Kabisurjya Brahma – Raga Brundabati
---
3
Nabaghana Parida
Boirani
Guru Sri Nabaghana Parida, famed veteran Guru of the performing arts of Bharata Lila, Chadheiya (Danda Nacha), Osakothi and multiple other traditions sings a janana from the writings of his Guru, the venerable 'Astabadhani' Acharya Tarini Charan Patra (1901-1979), whose scholarship and musical genius needs no introduction. Guru Nabaghana Parida has recently had an heart operation and that has severely impaired his remarkable voice. Nonetheless, he sang this in the remembrance of his Acharya.
Ehi Para Jaga Kalia – Acharya Tarini Charan Patra (1901-1979) – janana