Prahallada Nataka is a 200-year old folk theatre from Ganjam in Odisha. Created by Ramakrusna Chhotaraya, the erstwhile king of Jalantara (a princely kingdom in the southern regions of Odisha), it tells the story of Vishnu's man-lion incarnation Nrusingha, the asura king Hiranyakasyapaand his son Prahallada. Since it is a king pouring out his imagination, Prahallada Nataka turns out to rather grand in its construction- the costume is unusual, the music has a strong classical base, the moves are regal and dramatic, the dialogues are magnanimous and there is a general air of grandeur. For old-school village audiences, this is something that they have never seen, something that stands out from the monotony of daily life. Perhaps that is what makes it so fascinating.
Name / Prahallāda Nātaka / ପ୍ରହଲ୍ଲାଦ ନାଟକ
Also / Rajā Nāta
Origin / Early 19th century
Place of origin / Jalantara, Ganjam, Odisha
Creator / Ramakrusna Chhotaraya
Type / Musical theatre
Topic / Vishnu's Nrusingha avatara
Condition / Endangered
Characters / Raja (Hiranyakasyapa), Lilabati, Prahallada, sutradhara and multiple others
Documentation
In a a massive project crowdfunded by the Odia Twitter community, spanning more than six months, two complete performances of Prahallada Nataka were created. This came out to be more than 100 hours of footage. The entire footage shall be released online for free along with subtitles and research material.
One of my dream projects, it was brought to life by the two other members of the core team beside me – Debendra Pattanayak sir and Arjun Samantaray. Filmmaker Abinash Padhan also helped us immensely in the shoot. Professor John Emigh guided me, provided his own research and at the end, introduced the form in the beginning of the first episode.
---
Artistes
Sri Lakshmi Nrusingha Natya Sansada
Burupada, Block : Hinjilicut, Ganjam, Odisha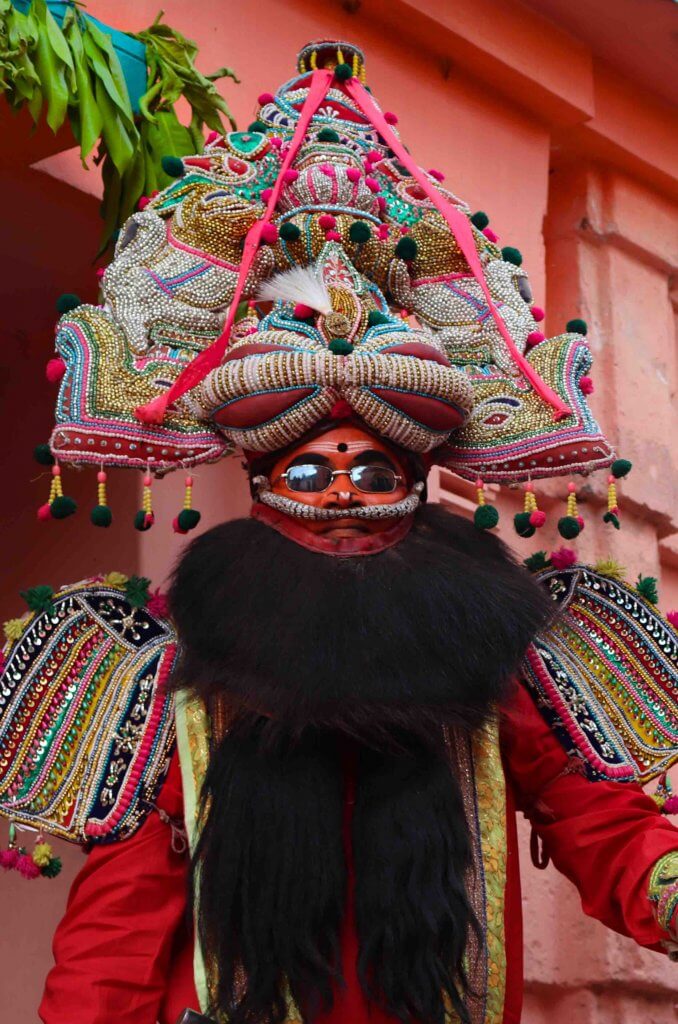 A. Rajendra Patro as Raja
Contact : +91 9938342849
Rajendra has been performing as Raja since the last few decades. He is one of the most popular performers for the challenging role today, and not without reason – his flawless singing, energetic dance and his own little nuances here and there all make the play much more enjoyable.
Simanchala Malika as Prahallada

Santosh Satpathy as Lilabati

Pintu Bisoi as multiple characters

Sanyasi Maharana as sutradhara
Kalia Gouda on mukhabina ; Tukuna Swain on mardala ; Simanchala Patro & Pitambara Sahu on gini.